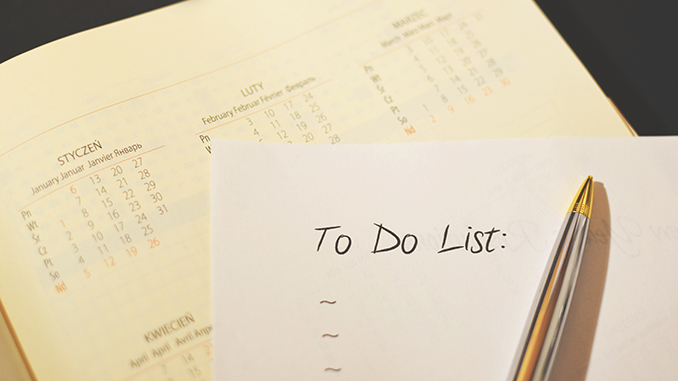 It can be hectic being an entrepreneur.  Beefing up your organization skills is one of the best ways to help manage the stress of being pulled in several directions every day.  I use a handful of organization tools to help me stay on top of things.  These are all tools that I use at least once a week.  Some of the top ones I use daily.
I picked this to be at the top of the list because it has taken a huge burden off my mind.  In the past, I would worry about what tasks needed to be done.  I would write lists and those lists would eventually get lost.
With Todoist, I can add an item to my list of things that need done.  I can even assign due dates, tag them, and group tasks into projects.  For just $25/year, the pro version allows you to add notes and attachments to tasks.
Aside from assuring that something gets done, it also reduces stress because as soon as a task presents itself, I can add it to Todoist and forget about it until it shows up in my Todoist inbox.  For example, if I know that I need to send an email to a client by Friday, I can just add "send email to client" to my Friday list and go about my day.
Lastpass almost made it to number one.  I use this every single day as well.  With my web development business, I handle a lot of usernames and passwords.  With Lastpass, I can store all of them in one secure place.
Lastpass even integrates with chrome so that you can choose from a drop down which username and password combo you want to use and log in with that.  If you get the pro version, you can use it on your mobile device.  The pro package is $12/year.
You can also use Lastpass to store secure notes about projects and share credentials with contractors/employees.
While I don't use it as frequently, boomerang is a definite godsend.  Like most of the self-employed population, I work odd hours and sometimes it doesn't feel right emailing a client at 1 AM on a Friday night.  Rather than saving the email in Word and sending at a more reasonable hour, boomerang allows you to 'send later'.
More importantly, Boomerang also allows you to send a message back to you if you haven't received a response:
This feature is great because now you don't have to worry about following up or making sure you get the information you need.  You even use both features at the same time.  So now if I'm working on a website at midnight and I need additional information from a client I can schedule the email for tomorrow morning and have it boomeranged back to me if I don't receive a response by that afternoon.
Trello is a fantastic project management tool.  You don't have to use the Scrum method when using Trello, but it lends itself easily to SCRUM boards.
Trello allows you to set up several 'lists' (the gray boxes in the above screenshot) and inside those lists, you can have cards (the white boxes inside the gray boxes).  Inside those cards, you can attach files and add notes about the task at hand.
Depending on the project, you can have lists for "To Do", "Doing", "To Review", "Done" (a common setup that I use) and then move the cards between these lists to show their completion status or you can have lists for the different parts of the project.  People have used Trello to organize Job Searches, Meal Plans, Company Overviews, and several other things.
There's a lot of information to keep up with.  I subscribe to a lot of different blogs and use Feedly to aggregate all that information.  In the morning, I can see all of the titles and then choose which ones I want to read.
If you use Upwork, you can also get an RSS feed of jobs and hook that up to Feedly to help make your job searching more efficient.
While I wouldn't recommend Docracy for large contracts, it's great for small agreements.  It also allows you to collaborate with the other person and make changes to the document as you go.  Once you both arrive at a version of the document that you're willing to sign, you can both electronically sign right on the Docracy platform.